Kids Martial Arts In Troy
Give Your Child The Best Foundation With Kids Martial Arts At Denny Strecker's!
There's no better way in Troy to build your child's self-confidence and give them the tools to become a leader in life than our Kids Martial Arts Classes at Denny Strecker's Karate. We work hard to make children of all ages and experience levels comfortable in our collaborative learning environment.
Your child will interact with others, work with partners and listen to the instructor as a member of the group. But they'll never "ride the bench". They'll be held to their own standard, no one else's.
Every child is unique and our Kids Martial Arts classes offer a fantastic opportunity to capitalize on their natural strengths to bolster their Self Esteem so that they have the emotional and mental capability to tackle areas that need work.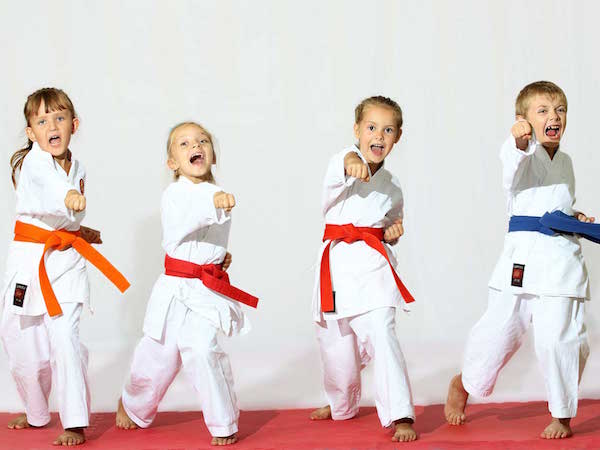 Find The Kids Martial Arts Class That Fits Your Child Best
At Denny Strecker's, we offer specially designed Kids Martial Arts classes through the renowned Skillz program which address the individual needs of children of all ages. In a room full of new friends similar in age and experience level, your child will have every opportunity to thrive.
Class options include:
Early Skillz (Ages 3-4): Designed for our youngest students, these classes are built around FUN and aim to help kids develop base level body movements through fun and exciting exercises.
Basic Skillz (Ages 5-6): These classes are aimed at providing students with challenges that stimulate their social and intellectual capacities without being so challenging that it frustrates them.
Core Skillz (Ages 7-9): Geared toward these children's adventurous and youthful nature, this class aims to give students the tools to build on as they move further into their martial arts training.
Extreme Skillz (Ages 10-14): Still accessible for all experience levels, these classes begin to add movements and technique to the martial arts skills our students have developed in their younger ages.

Enjoy The Benefits Beyond Our Dojo
Growing up in the 21st century is no easy feat, with abundant distractions and less focus on physical activity. But with our Kids Martial Arts classes at Denny Strecker's your child will quickly gain an appreciation for a number of lifelong skills they can take into the classroom, their personal lives and ultimately into a successful career.
Your child will see improvements to their:
Overall focus
Learning skills and memorization
Respect for others
Self-Confidence and Perseverance
Motivation to stay fit and healthy
Give It A Try Today - Sign Up For Kids Martial Arts Now! Proudly Serving The Troy And Sterling Heights Areas!
We've specifically designed our Kids Martial Arts classes to help your child build the life skills they need to work through their challenges and become the confident, capable adolescents that we all know they can be. And we can't wait to get started. For more information or to sign up today, simply fill out the form on your screen and we'll be in touch soon!